San Petersburgo, 19 de Julio de 1961.
Debutó en 1989 con el documental Losev que retrata el último año de la vida del gran filósofo ruso. En 1992 filmó la tragicomedia The Belovs, sobre el destino de una campesina rusa y sus hermanos. El film fue considerado por los críticos como uno de los mejores documentales del siglo XX.
En 1997 filmó Sreda 19.07.1961 sobre personas nacidas en Leningrado el mismo día que el director. En 1998, Pavel and Lyalya, romance en Jerusalén, que se convirtió en la primera película de la subsecuente trilogía I Loved you (2000).
Su film Tishe! (2003), una mirada al exterior desde su departamento en San Petersburgo en el año que se preparaba la ciudad para el 300 Aniversario de la ciudad, fue nominada para recibir la máxima distinción de la European Film Academy.
En 2006 creó Svyato – un documental de autoconocimiento– que trata de la observación a un niño de dos años que se ve reflejado en un espejo por primera vez en su vida.
Retrospectivas de sus films han sido programadas en muchos países, en los más prestigiosas instituciones culturales del mundo, incluyendo Museum of Modern Art (MOMA) en New York y el Pompidou Center (CGP) en París.
¡Vivan Las Antípodas! es su última película, que ya ha sido reconocida en los más importantes festivales internacionales y ha sido nominada al Best Documentary Film por la European Film Academy.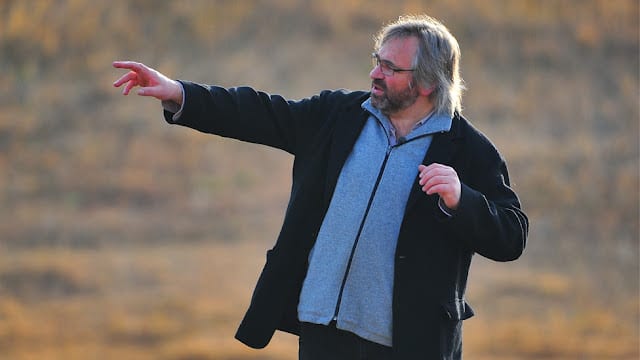 Victor Kossakovsky indaga en lo real para hallar armonías inesperadas en las imágenes y hacer emerger de ellas los sentidos más inesperados, mediante una contemplación lírica, humorística y fraternal de las relaciones entre los hombres y el mundo. En The Belovs retrata el carácter agrio, ebrio y melancólico de dos hermanos campesinos. En Tishe!, realizada desde la ventana de su casa en San Petersburgo, revela en las pequeñas escenas de una calle que está periódicamente en obras los ritmos de las estaciones y de las combinaciones cómicas y abstractas de la vida cotidiana en la ciudad. ¡Vivan las Antípodas! crea relaciones entre personas que están en lados opuestos del mundo.
Creo que cada momento de la vida es único y no se puede repetir. Si se mira la vida de tal manera, luego se filmará todo con pleno respeto a cada momento. Entonces, incluso las cosas sencillas adquieren cada vez más importancia y son únicas a su manera. V.K.
FILMOGRAFIA
2011 – ¡VIVAN LAS ANTÍPODAS!
Nominada a Mejor Documental por la Academia de Cine Europeo
"Golden Centaur" at St.Petersburg IFF Best Documentary
Mayahuel al Mejor Documental Iberoamericano, 27 Festival de Cine de Guadalajara
Mención del Jurado, DocsBarcelona
Deutsche KAMERAPREIS 2012 a la Mejor Cámara en Documental
Premio "True Vision" True / False FF 2012, USA
WWF Premio Mejor Película en la sección "Hábitat" Thessaloniki IDF 2012, Grecia
Gentian de Oro a la Mejor Película Trento IFF 2012, Italia
2006 – SVYATO
Russian Documentary Film & Tv League Prize LAVR For Best Artistic Documentary
Russian Critics League Prize; "Golden Centaur" In St.Petersburg IFF For Best Short Russian Film
Best Documentary Film Prize In Stuttgart Russian Film Festival
Audience Award, Thessaloniki
Nominated for the Silver Wolf Award
2003 – TISHE!
Juzgado por la crítica holandesa como el Mejor Film distribuído en Holanda durante 2003.
Nominado al The European Film Academy Award (ARTE PRIX 2003)
Nominado The Joris Ivens Award, IDFA
Best Documentary en Montreal FF
First Prize In Munich FF
First Prize In Florence Dei Popoli FF
Golden Centaur In St.Petersburg IFF
The Best Russian Film – Russian Critics League Prize
Russian Documentary Film & Tv League Prize "LAVR"
First Prize In Wyborg FF
First Prize In Jecaterinburg FF
2000 – KINDERGARTEN
1998 – PAVEL AND LYALYA
«Message to Man» Int. Film Festival, St. Petersburg – First Prize for Best
Short Film In The International Competition
Jekatarinburg Film Festival – First Prize Best Short Film
International Documentary Festival Amsterdam – Special Jury Prize
Leipzig Festival For Documentary & Animated Films – FIPRESCI Prize, Public's Choice Prize
Balticum Film Festival, Bornholm – First Prize For Best Short Film
International Documentary Film Festival Nyon – First Prize For Best Short Film
Taiwan International Documentary Festival – Film Merit Prize
Best Documentary In Monteral IFF
Best Foreign Film In Thessaloniki IFF
1997 – SREDA 19.07.1961
Berlin International Film Festival – Panorama. FIPRESCI Prize
«Message to Man» Int. Film Festival, St. Petersburg – Ecumenical Jury Award
Edinburgh International Film Festival 1997, Best Documentary (Observer Prize)
Jekatarinenburg Film Festival 1997, Critics Prize, Award of Professional Championship
Critics' prize at Buborg FF
Balticum Film Festival, Bornholm 1997, First Prize
Vyborg Festival of Russian Film 1997, Russian Critics Award
Observer Prize in Edinburg FF,
Hononary mention in Karlovy Vary IFF ,
«Nika» – Russian Film Academy Award 1998
«Triumph» Russian Independent Prize for Achievment in Art 1998 – an Achievement Award for the Outstanding input in Russian Art- el más prestigioso galardón artístico ruso
Russian State Order for Achievements in Art 1994
1992 – BELOVY
International Documentary Festival Amsterdam 1993, Joris Ivens Award, Public's Choice Award «Message to Man» Int. Film Festival, St. Petersburg 1993, Golden Centaur Critics Prize, Ecumenical Jury Prize
International Documentary Film Festival Nyon 1993, Sesterce d\'or FIPRESCI Prize, Ecumenical Jury Prize, Public's Choice Award, Young Jury Prize
«Vue sur les docs» Marseille 1994, Prize for Best Production (Procirep)
Leipzig Festival for Documentary & Animated Films – Public's Choice Award
1989 – LOSEV
«Message to Man» Int. Film Festival, St. Petersburg 1991, Silver Centaur Best Debut Film, Critics Prize