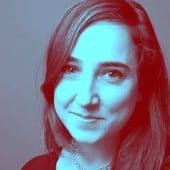 Socio(a) Docma:
Ruth Somalo
Profesión: Cineasta
Empresa: Horns and Tails Productions
Contacta: Correo-e · Sitio web ·

---
Biografía:
Ruth es artista audiovisual, directora de cine, curadora e investigadora española afincada en Nueva York.
Con 18 años de experiencia en el campo audiovisual en España, Inglaterra y EEUU, Ruth es la fundadora y directora de Horns and Tails Productions y ha dirigido y producido 3 largometrajes documentales (200Km, Till You're Told To Stop y Consulta 32) y 13 cortometrajes (A Montly ritual, Eusebio: El Americano, Sensorium, Play Me, y Machine for Life… entre otros). Sus obras han sido exhibidas en salas comerciales como Cineteca de Madrid, Cines Verdi, Cines Zoco, Union Docs, y numerosos festivales, entre los que destacan el Festival de Cine de Málaga, Festival de San Sebastián, Cinema du Réel (Paris), ADFF (NY), L'Alternativa (Barcelona), Documentamadrid, Alcances… así como en los museos MOMA PS1 (Nueva York) y el EYE Film Institute (Amsterdam). Entre otros premios Ruth ha sido reconocida con el Seventh Annual Television Academy Honor por su trabajo como productora en la serie documental Screw You Cancer.
Además de sus propios documentales en los que realiza, produce, fotografía y edita; Ruth ha trabajado para TVE y ha colaborado en numerosos largometrajes documentales entre los que se encuentran Los Hijos de las nubes y The Propaganda Game dirigidos por Alvaro Longoria.
Desde el 2010 trabaja como programadora de cine documental en DOC NYC y actualmente es la Directora Asociada y Programadora del Festival Impugning Impunity (IIFF DOCS). También trabaja como programadora en DocumentaMadrid y en Architecture and Design Film Festival. Sus últimos trabajos de curaduría independiente han sido "Holy Fluids" para Union Docs,  "Broken Senses" en el Anthology Film archives para Flaherty NYC y el symposium "The Limit of Our Gaze: Women Filmmakers and Contemporary Documentary in Spain" en el King Juan Carlos Center de NY.
Ruth imparte clases esporádicas en NYU y es mentora de proyectos en en Fellowship Lab de Union Docs de Nueva York. Como investigadora está redactando su tesis doctoral sobre el duelo y el cine documental que defenderá en la Universidad Autónoma de Madrid, y pertenece al grupo de Investigación Hist-Ex sobre Historia de las Emociones (CSIC).
---
Filmografía documental:
2018 A Monthly Ritual
2017 Feature Documentary: Consulta 32. Director/Producer/Writer/DP
2016 Relocating One's Own Shame. Director/Producer/Writer/Camera/editor
2015 Eusebio, el Americano. Director/Producer/Writer/Camera/editor.
2014 Play Me. Co-Director/Producer/Camera/editor
2014 Sensorium (Produced at The Colony of Light art residency at MOMA PS1).
2013 71% selected by MOMA PS1 Expo 1.
2012 Machine for Life. Director/Producer/Writer/Camera/editor
2011 The ancient power of men's hands. (Commissioned by Catalonia's Museum of Rural Life) Director/Camera/Editor
2010 Feature Doc:Till You're Told To Stop: James Blunt. Producer/Director/Camera/Editor
2008 Beginning in Islington. Producer/Director/ Camera/Editor
2007 Going Places: Attempting an international mobility biography. Producer/Director/Camera/Editor
2006 Thank you Dr. Gowne. Producer/Director/Camera/ Editor
2004 200Km. Co-producer/co-Director/Camera/Script (colectivo Discusión 14)
2004 Spanish Eyes. Producer/Director/Actress/Voice over.
2003 From the Bathtub (Desde la Bañera). Producer/Director/ Editor.
2003 Call Center: a new memory (Locutorio: Una nueva memoria). Producer/Director.
---
Filmografía general:
---
Work in progress:
Momento Mori.
The Tear Project.
Loserville.
Sweeping The Streets.
Utam Uncle.
---